First Place – Holiday Award – "AON" – Oreland,PA.
Project Description:
Client company – AON – moved from outdated space to a new modern building, designed to their specific needs. The interior design relied on a contemporary look comprised of white, red, glass and chrome. The former holiday décor was scrapped and in their new location, an up-to-date holiday design was requested to complement the interior design.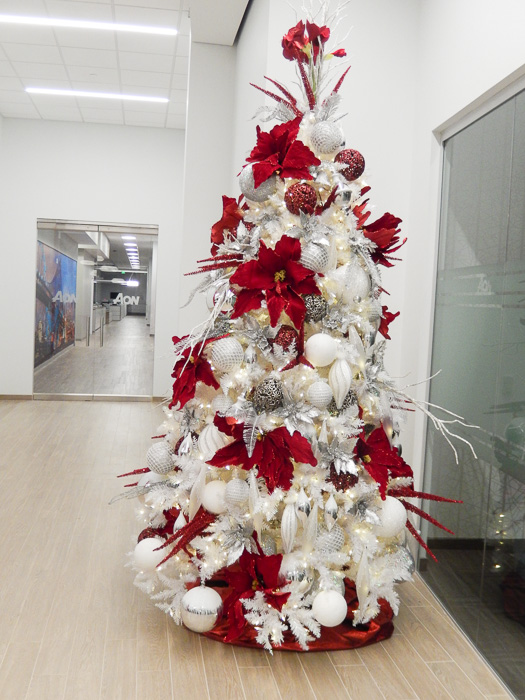 AON stipulated specific color palette – White and Red ― AON's colors for this holiday display in the company's new building location. To balance and complete the design, white trees and white wreaths were recommended instead of a traditional green tree, and AON loved the idea. Silver accents matched the chrome highlights of the interior design.
Additionally, traditional round ornaments were supplemented by contemporary shapes and textures, including giant red poinsettia picks, birch branches and amaryllis stems (the only green on the tree), making this design extraordinary and unique.
The hanging white replica wreaths are double sided and installed twelve feet above the main hallway and visible from all points of the office. The glass cylinders filled with red and silver ornaments with birch branches and amaryllis stems projecting out were located throughout the workspace and echoed the unique design elements of the nine- foot tree décor.
Due to the nature of this design, it was a custom project without imitation. Of note ― Instead of a traditional tree stand covered by a skirt, the pair of door-flanking entrance trees were cemented into red Phoenix containers in this company's high wind entryway.
(Visited 180 times, 1 visits today)